Our kitchen floor is all done and it is amazing!
It turned out just like we hoped and we just love it.
And I will post photos of the done deal as soon as our computer works again.
Ugh.
But I did manage to email these two photos to myself and can do a mini update on a different computer.
Hero and I were tossing around a few ideas for the floor when we finally choose this wood floor made from plywood (really!):
We really loved the look of checkerboard, too. We found this amazing floor: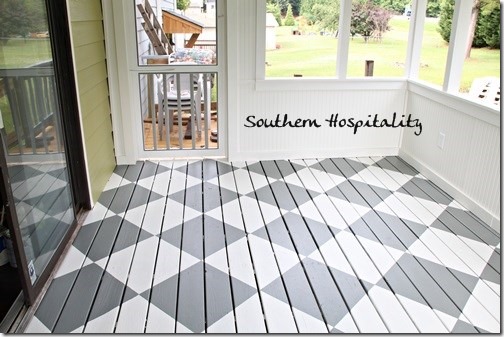 And thought we could have the wood floor and the diamonds!
But we were totally loving the way the wood floor looked all on its own and were a little tiny bit hesitant to paint it. Which is not really like us. Usually we just plow through.
Maybe we have learned a thing or two form past mistakes?
Anyway, we determined the size of squares we wanted to use and cut out about 2752 40 to lay out on the floor.
We wanted to use a light color paint, so this was a really great way to get a good visual on what we might be living with for the next several years.
Want to see?
The eating area - In reality there would be a table and chairs on top of this.
And the working side. (Sorry about the sideways view - I rotated it on the computer but it just will not make the leap in the upright position.)
Here is how it looks without the diamonds.
What do you think?
Really, you won't hurt our feelings. We are pretty good at doing what works for us so if you don't love it, that is okay. Or if you do, that is good, too.
Which would you choose?